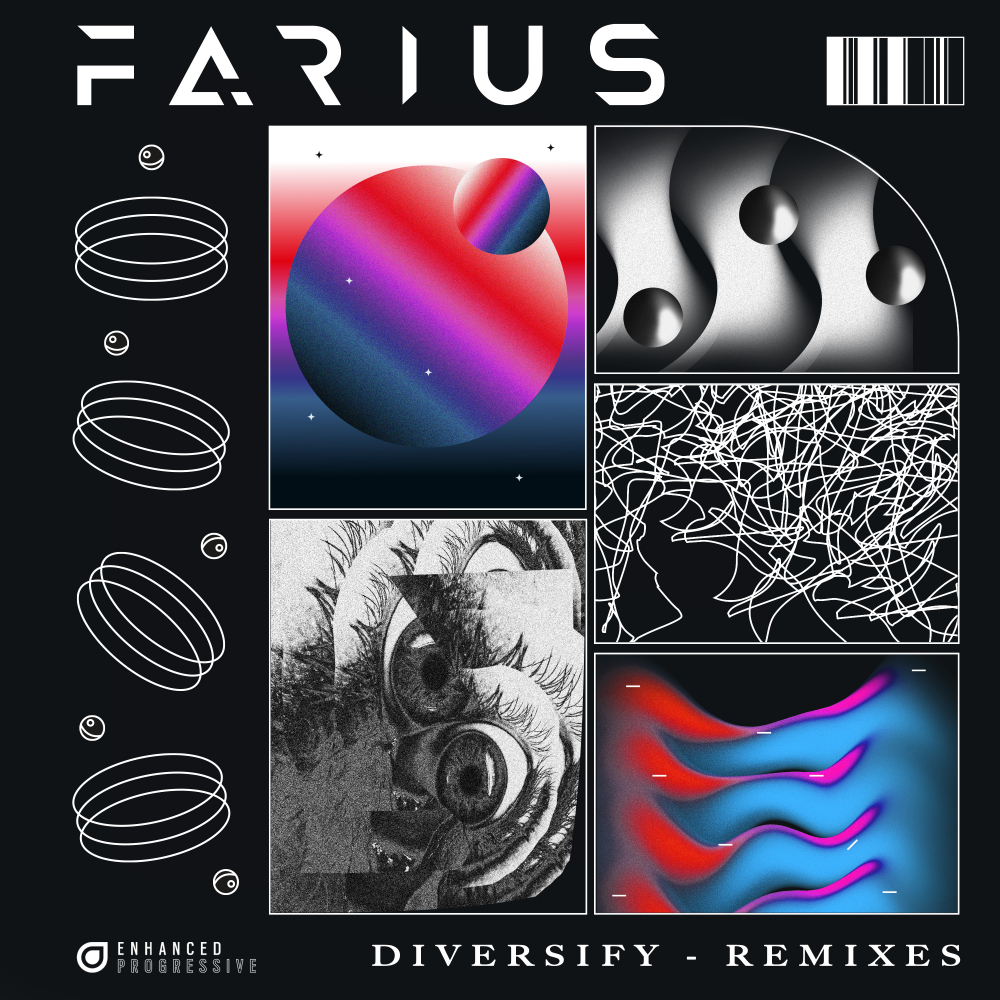 Diversify (Remixes)
Enprog451RWe
Stream/Download
Enhanced Progressive brings you the 'Diversify (Remixes)' release from Farius!
Released in August, Farius' 'Diversify' EP featured five sublime new tracks from a producer who has quickly risen to become of the leading artists in the world of progressive trance. Farius & Sue McLaren's 'Love Is Love', the EP's highlight track, has garnered hundreds of thousands of plays across platforms, and has already seen remixes from Protoculture, Siskin and Axis; now we bring you a further six remixes of the EP's tracks from some special acts.
Farius ups the tempo with his own 137 remix of 'Alibi', exploring classic trance territory in style, while 86 Crush unveils a glorious, 80's inspired, synth wave take of the same track. Dutch producer Maglev turns in an invigorating prog trance take of 'All Aboard' and Temujin brings his delicate blend of progressive trance and house to the fore on his remix of 'Chromosphere'. Wrapping things up is L.GU. with his typically driving but polished sound perfectly suiting 'Ironcast', and remix competition winner Airo impresses with a tight remix of 'Love Is Love'.
Artist: Farius
Label: Enhanced Progressive
Released: 17th November 2021
---
Farius - Alibi (Farius Lost In 137 Mix)
Farius - All Aboard (Maglev Remix)
Farius - Ironcast (L.GU. Remix)
Farius - Chromosphere (Temujin Remix)
Farius - Alibi (86 Crush Remix)
Farius & Sue McLaren - Love Is Love (Airo Remix)
Farius & Sue McLaren - Love Is Love (Protoculture Remix)
Farius & Sue McLaren - Love Is Love (SISKIN Remix)
Farius & Sue McLaren - Love Is Love (Axis Remix)
Farius - Alibi (Farius Lost in 137 Extended Mix)
Farius - All Aboard (Maglev Extended Remix)
Farius - Ironcast (L.GU. Extended Remix)
Farius - Chromosphere (Temujin Extended Remix)
Farius - Alibi (86 Crush Extended Remix)
Farius & Sue McLaren - Love Is Love (Airo Extended Remix)
Farius & Sue McLaren - Love Is Love (Protoculture Extended Remix)
Farius & Sue McLaren - Love Is Love (SISKIN Extended Remix)
Farius & Sue McLaren - Love Is Love (Axis Extended Remix)
---
---