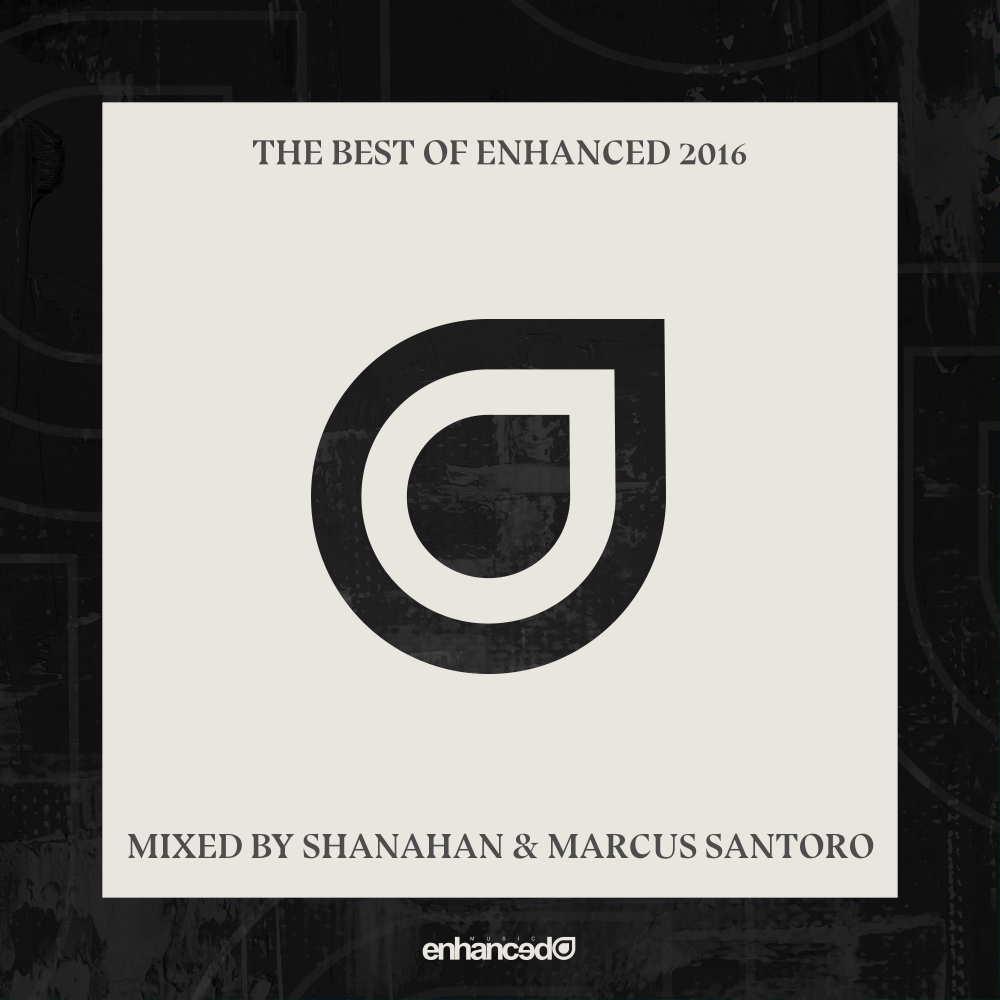 The Best Of Enhanced 2016, Mixed by Shanahan & Marcus Santoro
EnhancedDC085E
Stream/Download
In a year that saw Enhanced Music's expansive roster deliver an consistent slew of highly-sought after releases, making the label's 8th year its best to date, two of the label's most consistent stars Shanahan & Marcus Santoro put together a retrospective collection compiling the very best from both Enhanced Recordings & Enhanced Progressive's 2016's...
Shanahan picks out a collection of releases from the Recordings imprint showcasing the label's diverse output in 2016 - including his own productions with Disco Fries 'Is It Over', as well as his Breathe Carolina & Haliene production 'Stars & Moon' which both saw consistent US radio success, plus his Tritonal & Chris Ramos collab 'This Is Love' which featured on Tritonal's critically acclaimed & chart-topping album 'Painting With Dreams' among others.
With a pool of individual label successes such as; BRKLYN & Mariah McManus' 'Can't Get Enough', Thomas Hayes & Kyler England's 'Golden', Manse & Cornelia Jakobs' 'We Come Alive' and Savi & Bryce Fox's 'Breathe It In' to choose from, Shanahan's selection and DJ mix provides an extensive journey into the world of Enhanced Recordings.
Completing Enhanced's yearly retrospective Australian new-comer Marcus Santoro ties off his exceptional year with a selection of tracks & DJ mix from the Progressive outlet exploring the label's uniquely established sound.
Including his breakout hit 'There Is Only You' which saw the Aussie's tough yet melodic sound drafted straight into Trance's tastemaker radio shows & DJ sets, alongside other label triumphs like Rodrigo Deem, Las Salinas & Emily Harder's streaming success 'Anything, Wrechiski & Danilo Ercole's Radio 1 supported 'So Long' and Axis' 'Daylily' which saw huge crossover fame - Marcus' selection provides a vibrant, flowing collection of the very best from Enhanced Progressive.
Artist: Various Artists
Label: Enhanced Music
Released: 30th December 2016
---
Savi feat. Bryce Fox - Breathe It In (Extended Mix)
Tritonal & Jenaux feat. Adam Lambert - Broken (Extended Mix)
Disco Fries & Shanahan feat. Shy Martin - Is It Over (Extended Mix)
Tritonal feat. Steph Jones - Blackout (Extended Mix)
Thomas Hayes - Show Me What It Feels Like (Extended Mix)
BRKLYN feat. Mariah McManus - Can't Get Enough (Extended Mix)
Thomas Hayes feat. Kyler England - Golden (Manse Remix)
Volt & State - Anthems (Extended Mix)
Breathe Carolina & Shanahan feat. Haliene - Stars & Moon (APEK Remix)
Tritonal - Rewind (Extended Mix)
Vanrip - Music Sounds Better With You (Extended Mix)
APEK & Shanahan feat. Andrew Jackson - Broken Souls (Extended Mix)
Tritonal x Cuebrick - Iceland (Viking Clap) (Extended Mix)
Manse feat. Cornelia Jakobs - We Come Alive (Extended Mix)
Thomas Hayes & Nomra feat. Ruby Prophet - We Can Be Beautiful (Extended Mix)
Noah Neiman - Make It So Good (Extended Mix)
Ryos feat. KARRA - Where We Are (Extended Mix)
Tritonal feat. Chris Ramos & Shanahan - This Is Love (Extended Mix)
Cuebrick feat. Colordrive - Runners In Disguise (Extended Mix)
Codeko feat. Ashton Palmer - Afterglow (Extended Mix)
Tritonal feat. Angel Taylor - Getaway (Extended Mix)
Arno Cost feat. Eric Lumiere - Again (Extended Mix)
WildOnes feat. David Julien - Nobody But You (Extended Mix)
Dynastrax & Matierro feat. Max Landry - Alive (Extended Mix)
Shanahan - Enhanced Recordings: Best Of 2016 (Continuous Mix)
Estiva feat. Adara - Spark (Extended Mix)
LTN - Quicksand (PROFF Extended Mix)
Noise Zoo - Spectre (Extended Mix)
Wrechiski & Danilo Ercole - So Long (Extended Mix)
Marcus Santoro - There Is Only You (Extended Mix)
Daun Giventi - Ponyo (Extended Mix)
Rodrigo Deem - Aeon (Extended Mix)
Alex Klingle - Colors Back (Marcus Santoro Remix)
Square Two (US) - Rose (Extended Mix)
LTN - Autumn Leaves (Sunny Lax Remix)
Stargliders - The Red Nebula (Extended Mix)
SCHALA - Algorithm (Extended Mix)
Mark Dreamer - Adventures (Extended Mix)
Aruna - All Of You (Ost & Meyer vs ARUNA Mix)
Lycii & Declan James - Saturn (Extended Mix)
Sendr - Cyber (Extended Mix)
Rodrigo Deem & Las Salinas feat. Emily Harder - Anything (Extended Mix)
Axis - Daylily (Extended Mix)
Marcus Santoro - Gravity (Extended Mix)
Marcus Santoro - Enhanced Progressive: Best Of 2016 (Continuous Mix)
---
---