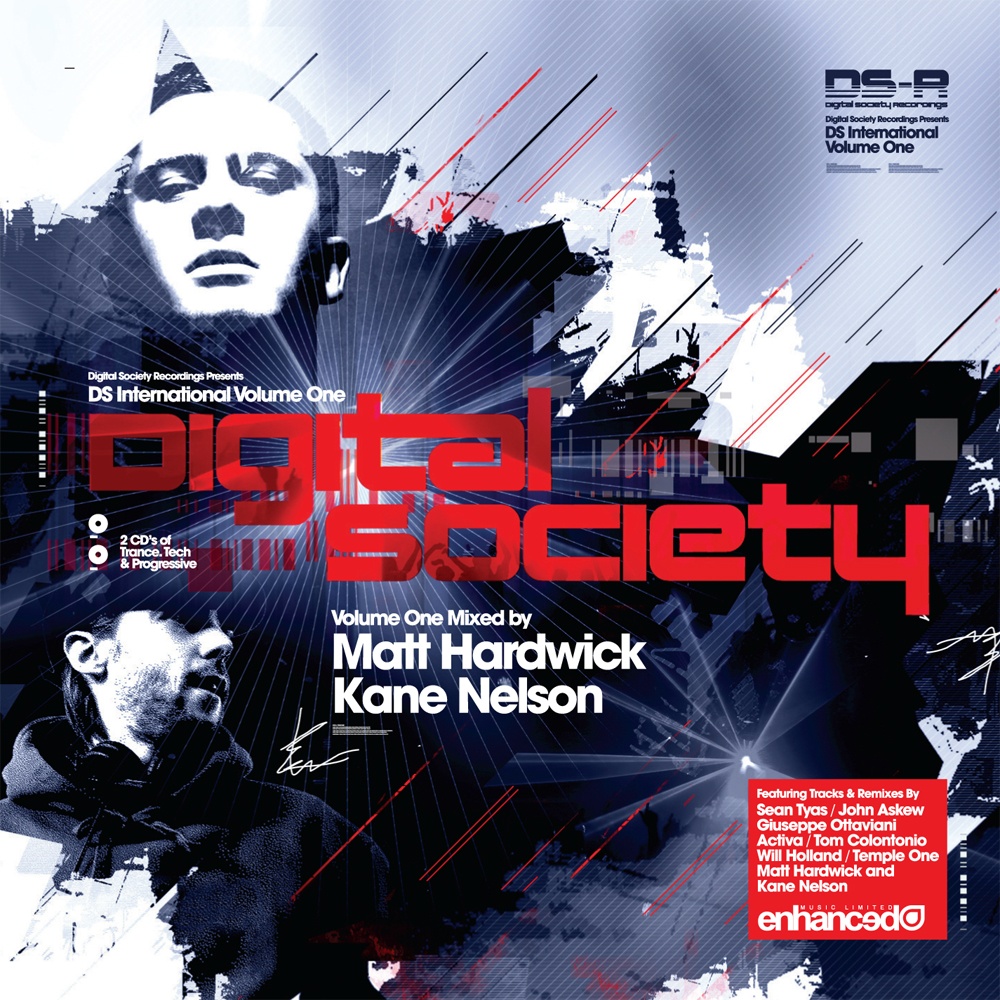 DS International, Volume One
EnhancedCD004
Stream/Download
Digital Society Recordings is proud to announce the release of the Digital Society brands first Mix Compliation, 'DS International Vol 1' mixed by UK Trance Legend Matt Hardwick and DS Resident Kane Nelson.
Matt Hardwick continues to be at the forefront of todays Trance scene both Internationally and in the UK. Matt has been a fantastic supporter of the Digital Society ethos, as clubland has seen a new brand truly arrive. DS Resident Kane Nelson has emerged as a future star with recent production success, and his profile has risen synonymously with the success of Digital Society.
Available exclusively on pre-order from www.cdjshop.com and www.enhancedrecordings.com from Monday 9th March and from all good record stores worldwide on the 20th April 2009.
Accompanying the release of the compliation comes the Digital Society Album Tour which launches on the 13th March in Leeds with an exclusive Matt Hardwick & Kane Nelson back2back set, before the Tour then moves on across the UK throughout 'Part 1'.
This is the first venture from DS-R, the newest label in the Enhanced stable. Look out for imminent singles from Temple One, Alex M.O.R.P.H & Woody van Eyden in their Lexwood guise, and Italian maestro Manuel le Saux!
CD ONE - Headliner - Matt Hardwick
1.John Askew - Blue (Original Mix)
2.Matt Hardwick - I Am DJ (Original Mix)
3.Activa vs Chris & Matt Kidd - UR (Stoneface and Terminal Remix)
4.Matt Hardwick feat. Melinda Gareh - Supernal (Original Progressive Vocal Mix)
5.Andre Glensk - Monday Reflections (Mekk Remix)
6.Sequentia - Infinate Horizon (Original Mix)
7.DT8 Project - Destination (Akesson Remix)
8.AF Project - Moonlight Madness (Temple One Remix)
9.Redstar - Long Way Home (Original Mix)
10.7 Skies & Static Blue - Central Park (Original Mix)
11.David Newsum - Spank Bank (Original Mix)
12.Tom Colontonio - Mercury Retrograde (Giuseppe Ottaviani mix)
13.Abdul Bayyari feat Josh Money - All Up In My Head (Will Holland's Enhanced Remix)
CD TWO - Resident - Kane Nelson
1.MK-S - Epiphany (Activa Rework)
2.Redstar - Awakening (Original Mix)
3.Activa vs Chris & Matt Kidd - U.R (Original Mix)
4.Sean Tyas - Melbourne (Original Mix)
5.Tiddey - Taylla (Tom Colontonio Remix)
6.Reverse - Distant Destiny (Original Mix)
7.Temple One - World Beyond (Original Mix)
8.Aled Mann - To The End (Last Man Standing Remix)
9.John Askew - Fade To Black (Original Mix)
10.Activa - Rise Above (Original Mix)
11.Kane Nelson - Red Trigger (Original Mix)
12.John Askew - Bored Of You, Bored Of Me (Original Mix)
13.Epicentre - Epicentre (Original Mix)
14.Bryan Kearney - You Will Never Be Forgotten (Activa Remix)
Artist: Matt Hardwick & Kane Nelson
Label: Enhanced Recordings
Released: 5th October 2009
---
John Askew - Blue (Original Mix)
Matt Hardwick - I Am DJ (Original Mix)
Activa vs Chris & Matt Kidd - UR (Stoneface & Terminal Remix)
Matt Hardwick feat Melinda Gareh - Supernal (Original Progressive Vocal Mix)
Andre Glensk - Monday Reflections (Mekk Mix)
Sequentia - Infinate Horizon (Original Mix)
DT8 Project - Destination (Akesson Remix)
AF Project - Moonlight Madness (Temple One Remix)
Redstar - Long Way Home (Original Mix)
7 Skies & Static Blue - Central Park (Original Mix)
David Newsum - Spank Bank (Original Mix)
Tom Colontonio - Mercury Retrograde (Giuseppe Ottaviani Remix)
Matt Hardwick - Disc One (Continuous DJ Mix)
Mk-S - Epiphany (Activa Rework)
Redstar - Awakening (Original Mix)
Activa vs Chris & Matt Kidd - UR (Original Mix)
Sean Tyas - Melborne (Original Mix)
Tiddey - Taylla (Original Mix)
Reverse - Distant Destiny (Original Mix)
Temple One - World Beyond (Original Mix)
Aled Mann - To The End (Last Man Standing Remix)
John Askew - Fade To Black (Original Mix)
Activa - Rise Above (Original Mix)
Kane Nelson - Red Trigger (Original Mix)
John Askew - Bored of You, Bored of Me (Original Mix)
Epicentre - Epicentre (Original Mix)
Bryan Kearney - You Will Never Be Forgotton (Activa Remix)
Kane Nelson - Disc Two (Continuous DJ Mix)
---
---