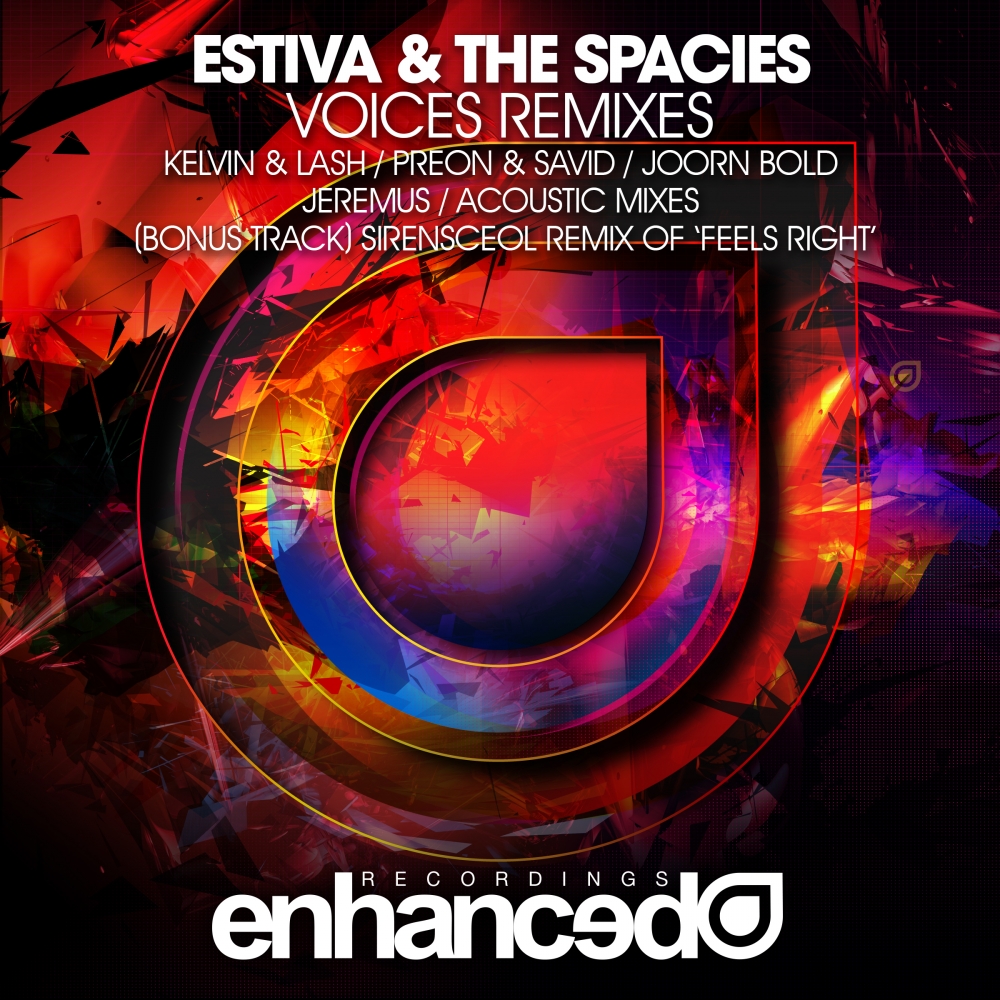 Voices (Remixes)
Enhanced206R
Stream/Download
Enhanced favourite Estiva returns again this time with the remix package of his awesome vocal collaboration with The Spacies. While the Original saw Estiva's punching, energetic sound propel the awe striking vocal talents of The Spacies, this remix package combines a community chosen WAVO remix competition winner with three other impressive remixes & a stripped back acoustic mix, along with SirensCeol's electrifying remix of another Estiva classic, 'Feels Right' - an entire EP, bursting at the seams.
Kicking off the EP is Kelvin & Lash's forward-thinking remix combining a future-bass come deep house effort, chopping up vocal stems with a bouncing, piano-led bassline to provide a refreshingly different take from this hot up n coming duo.
Preon & Savid take the Original's feel-good atmosphere and inject their own driving melody & sun-kissed guitar plucks, whilst WAVO remix competition winner Joorn Bold turns up with a powerful festival-friendly, peak-time crowd pleaser full of intensity & euphoria. Next up is Jeremus' version filled with funky & penetrating bass coupled with sweeping FX surrounding The Spacies' epic vocal tied up with chopped, dancing-electro synths to create a energetic mash-up of bass styles.
Rounding off the remixes is the delectable acoustic version which strips back the original to its barebones, emphasising The Spacies' emotional & powerfully delivered lyrics to bring the Original under an entirely new light.
Completing the EP is SirensCeol's remix of another Estiva gem - 'Feels Right', featuring the wonderful vocals of Sarah Russell. Another talent on the way to greatness, SirensCeol makes an impressive mark on the Original with sliced-up driving bass & plenty of innovative techniques which have earmarked the US producer as one to watch by EDM fans the world over.
A complete EP from Enhanced which again champions up-and-coming talent alongside some of the brightest names in melodic EDM.
Artist: Estiva & The Spacies
Label: Enhanced Recordings
Released: 9th February 2015
---
Estiva & The Spacies - Voices (Kelvin & Lash Remix)
Estiva & The Spacies - Voices (Preon & Savid Remix)
Estiva & The Spacies - Voices (Joorn Bold Remix)
Estiva & The Spacies - Voices (Jeremus Remix)
Estiva & The Spacies - Voices (Acoustic Mix)
Estiva feat. Sarah Russell - Feel Right (SirensCeol Remix)
---
---