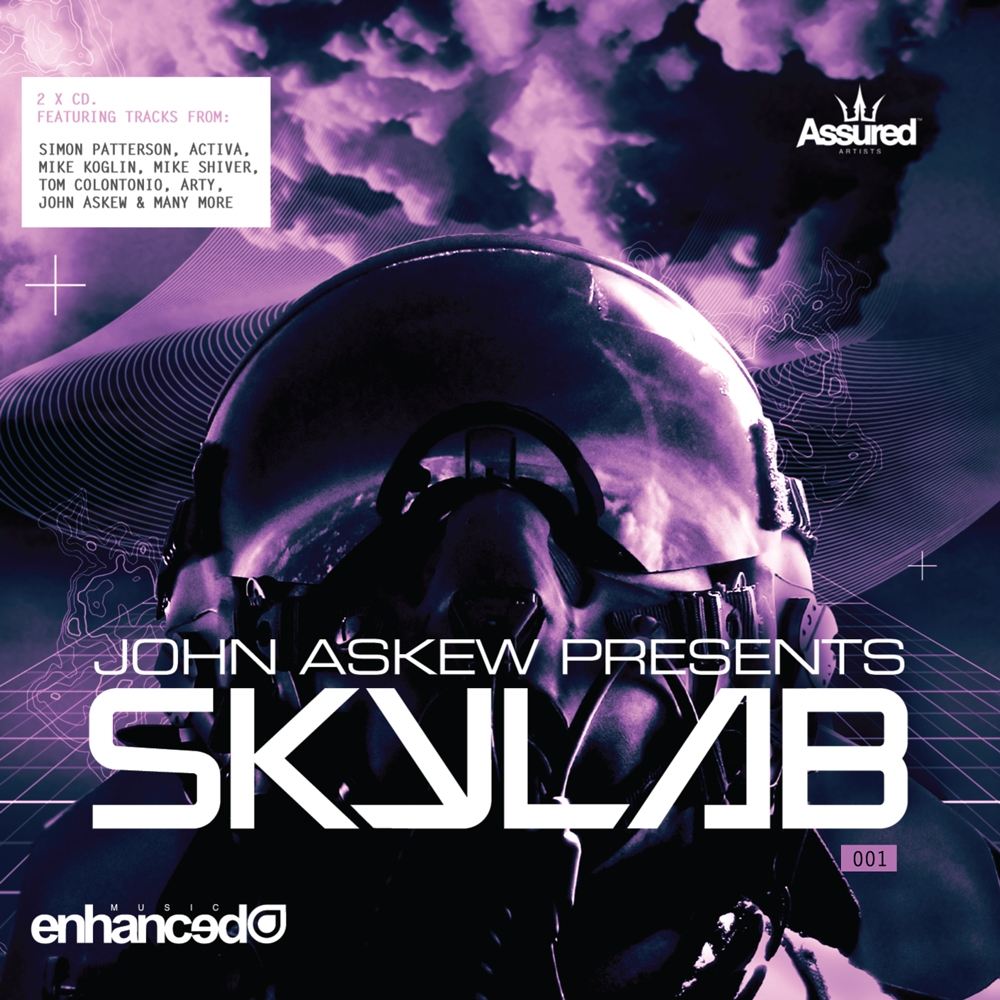 Skylab 01 - Mixed by John Askew
EnhancedCD010
Stream/Download
Skylab is the first in a new series from one of the UK's most prominent trance stars John Askew. The man behind the both mighty and pioneering Discover imprint and resident and London's premier trance night, the world famous Gallery Club has been at the forefront of the UK scene for a decade with his own brand of dancefloor destroying productions lighting up releases on a long list of labels including Vandit, Subculture, FSOE, Captivating Sounds, Monster and of course Discover & Discover Dark.
In the last ten years John's musical output has been relentless - releasing 45 highly acclaimed singles, 36 remixes, 2 massive artist albums and 9 compilations. His legendary Essential Mix on BBC Radio One in 2007 was a ground mark achievement and his A&R work in the development of a long list of current a list trance names who cut their teeth at Discover - including John O'Callaghan and Sean Tyas - speaks for itself.
John has and continues to extensively tour the four corners of the globe taking his trademark sound to the world's most discerning dance floors.
Skylab 01 demonstrates John's unique approach to mixing a compilation, utilising only the best elements of each track to create a single flow of sounds that stands out from other albums of the genre.
This is 43 tracks across two CD's of high octane trance and tech, packed with energy, melody and of course John's technical clarity and punch for which he has become known.
With a host of unreleased material from the scenes most sought after producers, including two brand new anthems from Simon Patterson, Skylab 01's highlights also include tracks and remixes from Tom Colontonio, Activa, Arty, Mike Shiver, Thomas Datt, Mike Koglin and of course John himself.
John Askew - Skylab 01
CD 1
1. Ian Booth 'Enigma' (Intro edit)
2. John Askew 'Intimate Strangers'
3. Impulsive Drive 'Another Way'
4. Sonic Element feat. Three Faces 'Afterlight' (Dub mix)
5. Substate 'Panama'
6. Enyo 'Magnesium' (Right Face remix)
7. Mike Nichol feat. Elles de Gaaf 'So Far Away"
8. ReOrder 'City Beats'
9. Audien 'Eleven Eleven'
10. Sneijder 'Away from Here'(Arty remix)
11. Fabio XB Feat Yves de Lacroix 'Close to the Stars'
12. Bram 'Aqumarine' (Vullcan remix)
13. Oliver Brooks 'Apart' (Thomas Datt remix)
14. Tom Colontonio 'Turn That Shit Up' (Vol Deeman remix)
15. Sly One vs Jurrane 'Everything to Me"
16. Jay B & Sandra Wagner 'Desire' (Daniel Kandi Classic Remix)
17. Adam Foley 'Nevermind'
18. John Askew 'Blackout' (Simon Patterson remix)
19. Ronald de Foe 'Old Times'
20. Air Night 'Remember' (Suprano remix)
21. Tom Colontonio 'Induction'
CD 2
1. Nic Callaghan & Will Atkinson 'Let Go'
2. Tyler Michaud & Interstate 'Junkie' (Reaves & Ahorn remix)
3. Garry Heaney 'Zegema Beach' (Askew edit)
4. Simon Patterson 'Whiplash'
5. John Askew 'To the Floor'
6. John Askew 'Misfit' (Adam Foley remix)
7. Dennis Sheperd 'Left of The World' (Mike Shiver Dub)
8. Activa 'The One you Need' (Sonic Element remix)
9. Thr3shold 'H.A.A.R.P'
10. Simon Patterson 'Latika'
11. Indecent Noise 'Warsaw'
12. John Askew 'Giving You Acid' (Sly One vs Jurrane remix)
13. Adam Foley 'No Kontrol'
14. Gary Maguire 'Poisoned Mind'
15. Ben O 'Definition' (Enoh remix)
16. Mike Koglin vs Dale Corderoy 'Metronomic' (Askew edit)
17. David Deen 'Journeyman' (Askew edit)
18. Des McMahon vs 3clipse 'Some Day'
19. Driving Force 'Through The Years' (Askew edit)
20. Activa vs Revolution 9 'The Fall' (John Askew remix)
21. Trance Eye. Pres Electronic Dreams 'Electronic Dreams' (ATM remix - Askew Edit)
22. Vol Deeman 'Falling Stars'
Released on Double CD and Digitally on 15th November 2010
Artist: Various Artists
Label: Enhanced Recordings
Released: 15th November 2010
---
Ian Booth - Enigma (Intro Edit)
John Askew - Initmate Strangers (Original Mix (Edit))
Impulsive Drive - Another Way (Original Mix)
Sonic Element feat. Three Faces - Afterlight (Dub Mix (Edit))
Substate - Panama (Original Mix (Edit))
Enyo Giove - Magnesium (Original Mix)
Mike Nichol feat. Elles de Graaf - So Far Away (Original Mix (Edit))
ReOrder - City Beats (Original Mix (Edit))
Audien - Eleven Eleven (Original Mix)
Sneijder - Away From Here (Arty Remix)
Fabio XB feat. Yves de Lacroix - Close To The Stars (Jerome Isma-Ae Dub)
Bram - Aquamarine (Vullcan Remix)
Oliver Brooks - Apart (Thomas Datt Remix (Edit))
Tom Colontonio - Turn That Shit Up (Vol Deeman Remix (Edit))
Sly One vs Jurrane - Everything To Me (Original Mix)
Jay B & Sandra Wagner - Desire (Daniel Kandi Classic Remix)
Adam Foley - Nevermind (Original Mix (Edit))
Ronald de Foe - Old Times (Original Mix)
John Askew - Blackout (Simon Patterson Remix)
Air Night - Remember (Suprano Remix)
Tom Colontonio - Induction (Original Mix)
John Askew - Skylab 01 (Part One - Continuous DJ Mix)
Nic Callaghan & Will Atkinson - Let Go (Original Mix (Edit))
Interstate & Tyler Michaud feat. Jessy Greene - Junkie (Reaves & Ahorn Remix)
Garry Heaney - Zegema Beach (Askew Edit)
Simon Patterson - Whiplash (Original Mix (Edit))
John Askew - To The Floor (Original Mix)
John Askew - Misfit (Adam Foley Remix (Edit))
Dennis Sheperd - Left of The World (Mike Shiver's Garden State Remix (Edit))
Activa - The One You Need (Sonic Element Remix)
Thr3shold - H.A.A.R.P (Original Mix)
Simon Patterson - Latika (Original Mix (Edit))
Indecent Noise - Warsaw (Original Mix)
John Askew - Giving You Acid (Sly One vs Jurrane Remix)
Adam Foley - No Kontrol (Original Mix (Edit))
Gary Maguire - Poisoned Mind (Original Mix (Edit))
Ben O - Definition (Enoh Remix (Edit))
Corderoy vs Mike Koglin - Metronomic (Askew Edit)
Dave Deen - Journey Man (Askew Edit)
Des McMahon vs 3clipse - Some Day (Original Mix)
Driving Force - Through The Years (Original Mix)
Activa vs. Revolution 9 - The Fall (John Askew Remix)
Trance Eye pres. Electronic Dreams - Electronic Dreams (ATM Remix)
Vol Deeman - Falling Stars (Original Mix (Edit))
John Askew - Skylab 01 (Part Two - Continuous DJ Mix)
---
---