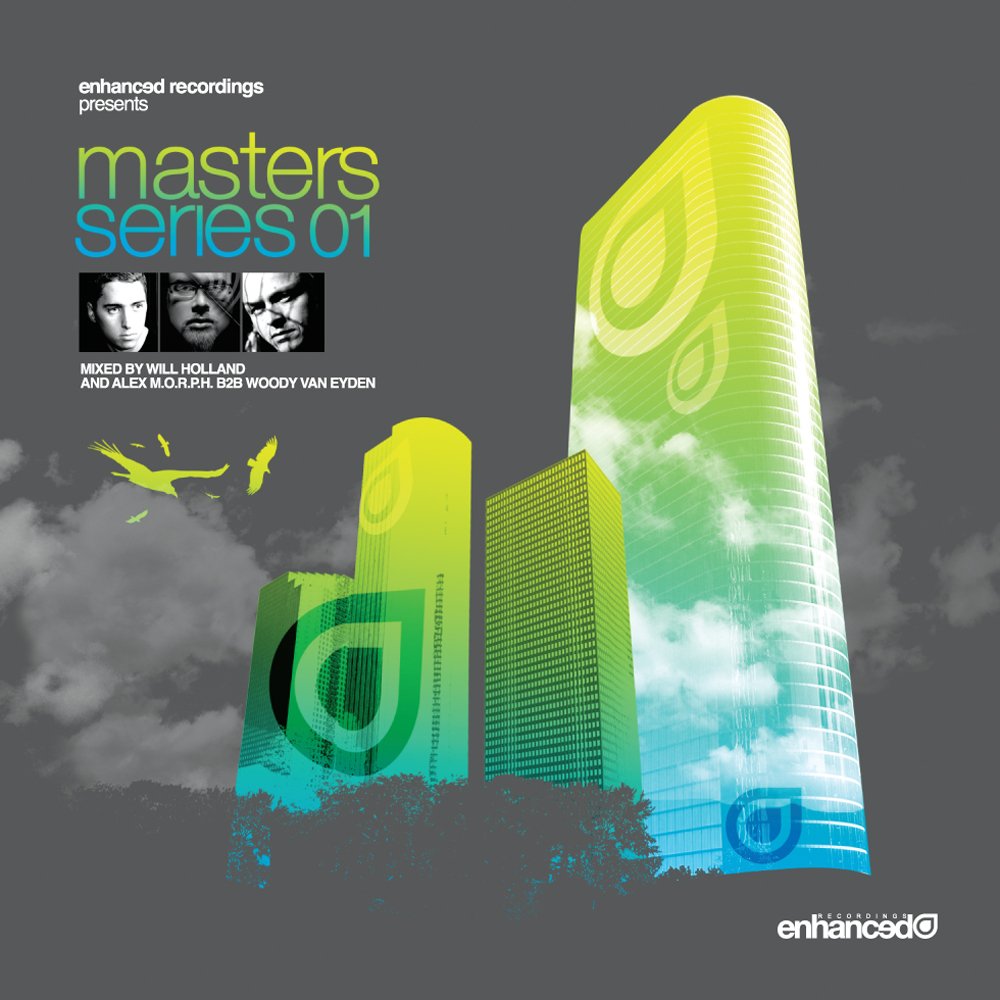 Masters Series Volume One
EnhancedCD002M
Stream/Download
Welcome to the next CD series from Enhanced Recordings; Masters Series 01. Following on from the international success of our debut series; Digitally Enhanced, which featured 100% material from the Enhanced Labels and received accolades such as Mixmag's 'Compilation of The Month,' this compilation focuses on the DJ and feature's Enhanced owner Will Holland, joined by a current master or masters of the scene.
One of the UK's leading trance DJ/ Producer's and Enhanced recordings owner, Will Holland follows up his critically acclaimed debut compilation of early 2007 with the next instalment in the Enhanced CD range, Masters Series Volume One. Holding residencies for three of the largest clubs in the UK; Gatecrasher, Wildchild and Digital Society, as well as four international radio shows, Will Holland is one of the most in demand UK artists with a plethora of bookings for UK and international events. As a producer Will has had success on many of the leading labels and his productions regularly feature in the sets of the world's leading dj's. A long term music obsessive, Will launched Enhanced a little over two years ago with a quest to release the music he loved.
Three sub-labels and over twenty five releases later, the label that has 'gained a lot of respect in a short space of time' (I-DT Magazine, NL) has been making 'a good case for its position at the head of the UK trance table' (Mixmag). On his disc, Will has selected no fewer than 10 forthcoming releases on Enhanced; a signature of any of his recent sets as he pushes forward his and Enhanced's sound, along with other tracks that have formed a major part of his sets over the past few months.
Alex M.O.R.P.H and Woody van Eyden are two names synonymous with the Trance scene, two legends of their genre and without doubt two of the most influential and import stars of today.
With gigs all over the globe and an impressive array of highly respected productions, Alex M.O.R.P.H, fresh off the back of a huge joint release with Paul van Dyk, is one of today's most in demand producers, having made over 60 remixes and released more than 20 original productions and collaborations. Woody van Eyden has been a major figure within the trance community with releases across the most defining labels for the past decade. Having held residencies all over the world he is also a formidable force behind the decks.
Together these old friends have created one of the most talked about back to back teams, blowing away fans with their non stop barrage of banging trance. One plus one equals two? No way, not with Woody and Alex. They bring the energy for a whole army of dj's. What Woody does, Alex does better, and after that, Woody tops him. This act goes on, track after track, bringing total euphoria to any dancefloor, putting every crowd under their magical spell. This is exactly what they have created with their CD, blending together their current favorite tracks with an upfront selection of their own work and forthcoming releases from their label Fenology.
CD ONE - MIXED BY WILL HOLLAND
1 Carl B - Just A Thought (Allende Remix)
2 Talla 2XLC - No Inbetween (Duderstadt Progressive Dub)
3 Above & Beyond pres. Tranquility Base - Oceanic (Super8 & Tab Remix)
4 Super8 & Tab - Suru (Martin Roth Electrance Remix)
5 Estiva pres. Sunover - Fame (Original Mix)
6 Alex Chilcott - Maui Sunset (Original Mix)
7 Sindre Eide - Only When I Sleep (Original Mix)
8 Sequentia - Eclipse (Original Mix)
9 Temple One - Aurora (Original Mix)
10 Deepwide - River (Original Mix)
11 Will Holland vs Six Senses - Frantic (Sean Tyas Remix)
12 Kyo & Gil La - Ultima (Original Mix)
13 Sense of Shiver feat. Boom - Offshore (Joe Garrett's Ocean View Remix)
14 Jan Johnston Meets Jussi Soro - Merge (Sequentia Remix)
CD TWO - MIXED BY ALEX M.O.R.P.H B2B WOODY VAN EYDEN
1 Alex Bartlett - Touch The Sun (Rank 1 Remix)
2 Carl B - Just A Thought (Original Mix)
3 Nic Chagall - Borderline (Original Mix)
4 Perpetual feat. Fisher - Innocent (Manvel Ter-Pogosyan Remix)
5 Alex M.O.R.P.H. feat. Katie Marne - Spirit (Original Dub Mix)
6 Lost Witness vs. Sassot - Sin Mas (Original Mix)
7 Amadeus vs. Aly & Fila - A Dream Of Peace (Original Mix)
8 Sebastian Sand - Strange Bends (Kyau & Albert Remix)
9 Agnelli & Nelson pres. A&N Project - Wear That Dress (Agnelli & Nelson Club Mix)
10 Daniel Kandi - Make Me Believe (Original Rise Mix)
11 Talla 2XLC - No Inbetween (John O'Callaghan Remix)
12 Ground Control - Then & Now (Woody van Eyden Piano Remix)
13 DT8 - Breathe (Alex M.O.R.P.H. B2B Woody van Eyden Dub)
14 M.O.R.P.H.+ van Eyden pres. LEXWOOD - I Love Trance (Original Mix)
15 Soliquid - Music Is For Rich People (Mat Zo Remix)
Artist: Various Artists
Label: Enhanced Recordings
Released: 6th July 2008
---
Will Holland - Masters Series Volume One (CD One)
Alex M.O.R.P.H b2b Woody Van Eyden - Masters Series Volume One (CD Two)
---
---