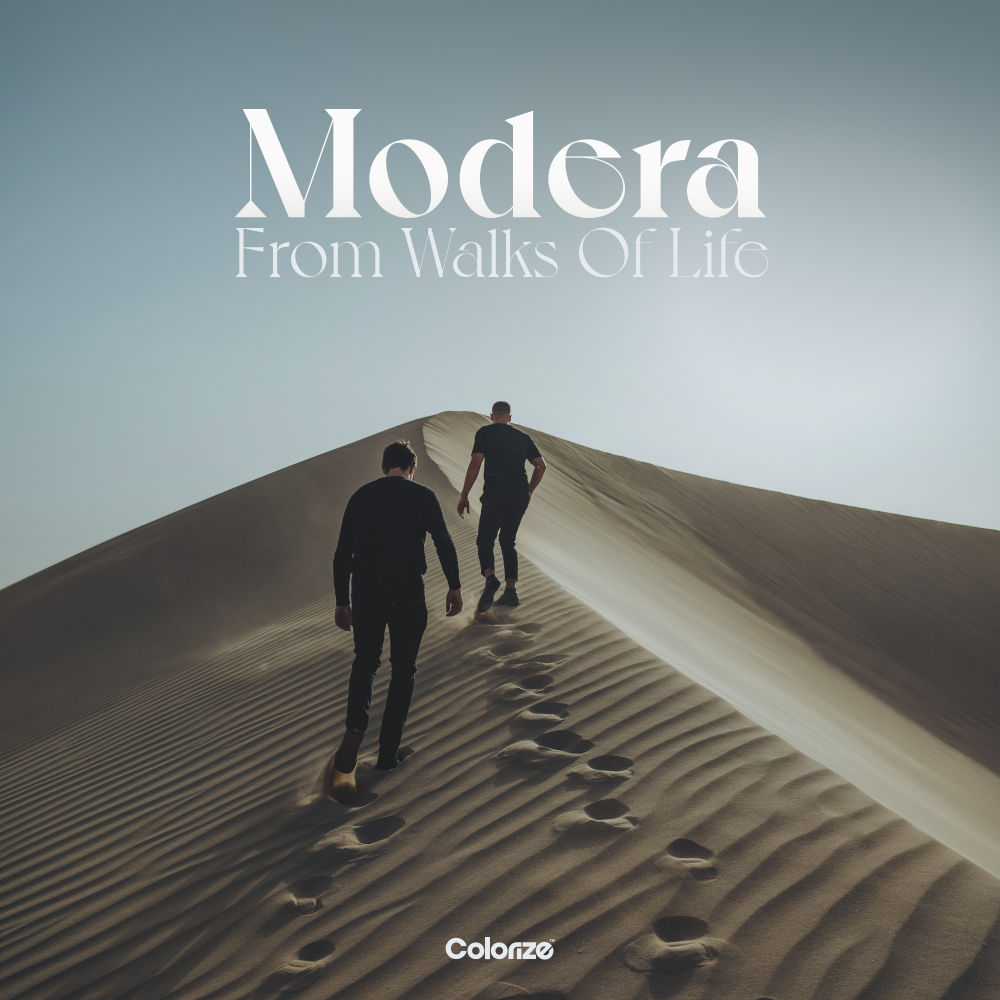 From Walks Of Life
ENCOLOR465We
Stream/Download
Modera unveil their debut album 'From Walks Of Life', here on Colorize!
Hailing from the vibrant city of Seattle, Washington is the duo of Caleb Hamlin and Evan Koessler aka Modera. They've carved a niche for themselves in the world of electronic music with their intricate and emotionally-charged productions and a prolific release schedule, leading up to the release of 'From Walks Of Life' with seven dazzling singles. The twelve-track album showcases the duo's signature sound in full force as they delicately blend together electronic and acoustic elements, embracing orchestral textures along the way to give their productions an intimate and organic vibrancy.
After releasing their debut single 'Valhalla' in 2022 on Colorize, Modera have gone from strength to strength, expanding their sound through a host of impressive single and EP releases. The road to 'From Walks Of Life' began a year later in February 2023 when they released the album's first single, 'Better Place' with Lauren L'aimant, a statement production with a wholly engrossing atmosphere.
The album is a testament to Modera's strengths as collaborators, recruiting vocalists and producers to embellish the album's textures and lift it to lofty heights. Phoebe Tsen appears twice, bookending the album on either side with her sublime vocal talents, and she is joined by the likes of Tailor, Jordan Grace, Lewyn, Blonde Maze, Camp 8, Blue Noir and Susie Ledge; it's a stunning lineup of vocalists and singer / songwriters who leave an indelible impression on 'From Walks Of Life'. On production duties Modera are joined by Hessian, LJ MASE, Blonde Maze and Damaui who fortify the album's sonics with their unique approaches. One of the album's highlights is despite the range of collaborators enlisted, Modera maintain a rigorous, sublime cohesion throughout. The twelve tracks flow smoothly and with a serene intention, waxing and waning deliberately. They incorporate orchestral elements with ease, layering them precisely over the electronic foundations of the tracks, with punchy percussion and effervescent bass grooves propelling proceedings forward. 'From Walks Of Life' is indisputably Modera in its sound, a striking quality for an act releasing their first album.
'From Walks Of Life' by Modera is out now wherever you get your music - and stay tuned as the story doesn't end here!
Artist: Modera
Label: Colorize (Enhanced)
Released: 10th November 2023
---
Modera & Phoebe Tsen - Breathe (Original Mix)
Modera & Hessian & Tailor - Never Enough (Original Mix)
Modera - Set Us Free (Original Mix)
Modera & LJ MASE & Jordan Grace - Freedom (Original Mix)
Modera & Lewyn - Rocket Fuel (Original Mix)
Modera & Blonde Maze - Back Into Your Arms (Original Mix)
Modera & Camp 8 - I'll Be Home (Original Mix)
Modera & Blue Noir - With You (Original Mix)
Modera & Damaui & Susie Ledge - Lifeline (Original Mix)
Modera & Lauren L'aimant - Better Place (Original Mix)
Modera & LJ MASE - Down The Line (Original Mix)
Modera & Phoebe Tsen - From Walks Of Life (Original Mix)
---
---