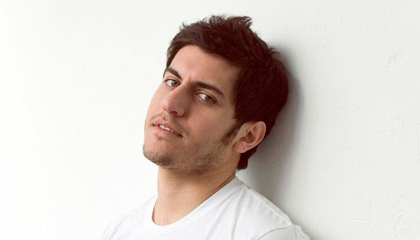 10 Minutes with Eco
News
30th September 2013
Enhanced had the pleasure of catching up with one of Trance's biggest rising stars - ECO Following his release today, "Hurt" a modern version of the classic Nine Inch Nails track, he talked about his passion for music, collaborations, artists he's currently supporting and plans for the future.
Here's what he had to say...
Hi Eco. What's up and where are you reading this from right now?
New York City, I'm below ground riding the subway actually!
Thanks for taking the time to speak with us. Can you tell the Enhanced readers a little bit about yourself? How long have you been producing and what made you get into trance?
I'm a New York-based progressive trance producer, I've been making music for a little over 10 years now (whoa!! it's been that long?) since I was 15. I try and stay away from the fads that come and go each year and do my best to make soulful, timeless, and thoughtful songs, stuff I'm very proud of. I listen to mostly alternative and old rock music, I draw inspiration mostly from bands like Radiohead, Pink Floyd, and more modern guys like Explosions In The Sky, Sigur Ros, and Arcade Fire. In essence, I really don't listen to too much trance music outside of my own or before I prepare for a big gig. That melodic thought-provoking alternative and rock music is what rules my days. Electronic-driven trance music is what rules my nights!
How would you describe your sound in 3 words?
Strange. Melancholic. Hopeful.
Who / what is your main inspiration when you make music?
As far as trance is concerned, I listened mostly to earlier 1990/2000s Tiesto. A lot of the German guys like Talla 2XLC, Schiller, Cosmic Gate, DuMonde, etc., were also early influences. My more contemporary inspirations are pretty wide, ranging from folk to indie rock and alternative, some of the bands I mentioned previously, and beyond.
Congratulations on your debut release at Enhanced, 'Hurt' which is OUT NOW exclusively at Beatport! The track has had some amazing support from the biggest names in the trance scene.
Thank you! It's very exciting to be the "new guy" in the wonderful community of artists Enhanced is home to, and the support for the single has been huge, both from the label and the artists who've been supporting it thus far. I really appreciate it!
What artists are you currently supporting? Can you name us 3?
One of my favorites in the past couple years is Naden. Also, Gai Barone is another one of my favorite producers at the moment. I don't always have the opportunity to play these artists' stuff, but when I play a longer more underground gig, my tracklist is full of their tunes. Last but not least, Rex Mundi's latest EP has gotten me really excited about the direction of the music as well. Always been a fan of his.
What was it like working with Carly Burns on the track, and how did the collaboration come about?
It was an awesome process. I only originally heard of her because of a mutual friend who told me that I should check her out. I did and was blown away by her voice. We sat down to talk and I casually suggested the idea of covering Nine Inch Nails' (and Johnny Cash's) "Hurt" and she was over the moon. Cash was one of her favorite artists and that song was one of her favorites, so the rest of the story sort of wrote itself, both quickly and smoothly! Like I do with most of my vocals, I did a test-run by singing the vocals myself, and sending to her so she knew what direction we should go. Within a week or two, she recorded it, and absolutely nailed it on the first try. We were on the same page, from start to finish!
What made you decide to make an alternative version of this classic song?
I've always been interested in how an older, darker, and maybe sadder song would translate into trance music, and how it would be perceived by the crowd. Some of the obvious older pop tunes get covered pretty frequently (like "Tiny Dancer" and many others) and turned into dance hits, but never something on the darker more emotional end. I decided to just go for it and what started out as a random idea, to cover "Hurt", ended up going really far in the creative process.
The track features on Digitally Enhanced Volume Six, mixed by Will Holland. How does it feel to have your debut track on such an acclaimed compilation series?
It feels great! I haven't worked with Enhanced before but I know you're reputation (and Will's), so it's great to be so heavily supported and featured by such a quality and class label, and the compilation is only a small portion of that support.
Are there any artists that you would like to collaborate with in the future? If so, who and why?
There are tons of artists I'd love to work with. Some names include Jonsi, Sufjan Stevens, Florence Welch, Sia, Thom Yorke etc.. I think in another life I was an experimental rock and pop producer haha... As far as names in the trance scene, it'd be an absolute dream to work with Armin van Buuren on a tune, for sure. A strange partnership that would be a dream for me would be to spend a week or two with Dennis Waakop Reijers in the studio. I feel like the old "Tiesto sound" had so much unmet potential right up to the end when Tijs switched it up and moved into electro and pop music. So much of Dennis' vision came to an abrupt end. Trance music and the scene in general would be a vastly different place right now if Tijs kept going with that style of music. They were breaking boundaries in 2000 and 2003, I can't even imagine what kind of stuff Dennis would be capable of now with today's technology, if the market and the record labels gave him the time and the room to develop it.
For those who haven't heard it, tell us about The Sound of You(th) Podcast. And when and where can we listen?
My podcast is one of those that comes and goes. I consider myself first and foremost a producer, so there are times where the DJ half of me is not finding the right kind of music for a month or two, so the podcast lays barren. But other times, I will look at my friends and the music they're putting out and decide, "It is time!" for a new episode. I don't know how these shows can keep finding 2 hours worth of good new music each week!! It's kind of a dance music phenomenon, isn't it... A lot of people enjoy the quality, depth, and diversity of tunes I select in my podcasts, but like I said, they don't come too often so I give myself the time to really hand-pick the right selection of tunes, for better or worse!
Do you have any upcoming gigs / events that we should keep our eyes open for?
I just came off a busy ending to the summer and capped it off with a 7 hour set last week here in New York. I have another Brooklyn gig coming up, but will be taking a couple months off again to focus on production. I might come out of my turtle shell at the end of December and early 2014, but I'm still awaiting confirmation on those nights!
Finally, where can fans go to 'like' / 'follow' you and keep up to date with everything going on in the world of Eco?
As my fans already know, I'm very active on my Twitter and Facebook pages. I respond to as many tweets, messages, and comments as I can and I take the same approach when I play gigs; I always try and meet, talk with, and take pictures with my fans; I never forget that these are the people that allow me to live out this dream of music.
Thanks for taking the time to speak with us. Good luck and we hope to hear from you again very soon!...
Thank you guys! You got my mind off of this dreary New York City subway ride. It's pretty smelly, and I think the homeless dude in the corner might've just soiled himself. Off I go!!
Eco & Carly Burns - Hurt is OUT NOW at Beatport!
Get your copy HERE
---